Get Involved

---
---
There is always a lot going on at Manheim Gardens & so many ways to get involved!
Volunteer

Sign up for a garden plot

Buy eggs

Buy honey

Attend events & meetings

Donate
---
Volunteer
Stewardship Sundays

You can find us in the garden Sundays throughout the year. Join us for planting, harvesting, building healthy soil, weeding, mulching, and more. Drop by (between 9-1 summer months / 10-2 cooler months) and any of our volunteers will be happy to fill you in on the goals for the day.
Events Help

A lot goes into planning and pulling off a community event - work yes, but also lots of fun! We are always looking for people with energy and a love of community to help with event activities and set up/break down. Food, music, art & the company of awesome humans - what's not to love?!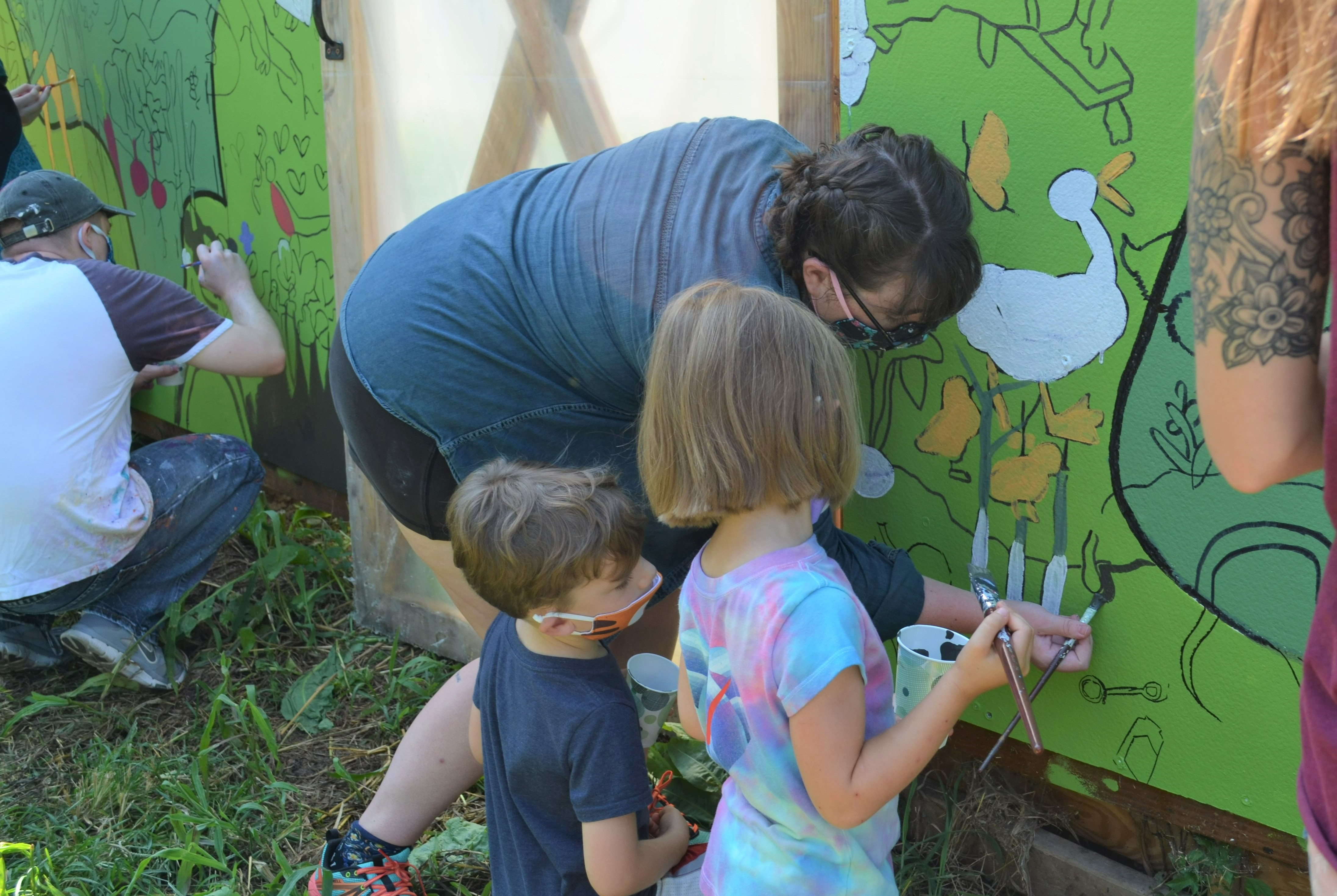 Projects
There are always projects on the calendar to keep Manheim Gardens growing and welcoming our friends and neighbors. Projects like: repainting the chicken coop, building raised beds, replacing the greenhouse plastic on the hoop house...and working to bring our dream of the Garden House community center into being.
---
Garden Plot Sign-Up

Manheim Gardens has a variety of opportunities for those interested in growing veggies, fruit, or flowers. Currently these include the following:


Raised bed plots (requires sign-up to reserve)

Community garden plots

Dye garden plots

Food forest
---
Buy Eggs - from our Manheim Yardbirds!
Our hens, roosters, ducks, & turkeys are free-range with a varied diet made up of commercial chicken-feed, fresh fruit & plants from our gardens, and insects and other invertebrates they forage for in the enclosure. When they are laying regularly they produce a lot of eggs, allowing us to offer cartons of eggs for purchase.
Find out when eggs are available!
---
Buy Honey - from our bees!
Manheim Gardens supports a number of thriving colonies of honey bees. You may notice their brightly colored hives (bee boxes) throughout the gardens, with the majority being in the food forest.
Honey bees you encounter in the gardens are focused on foraging and generally not interested in the humans wandering through. To keep you and the bees safe, we ask that you remain calm and do not disturb the bees or their hives.
We typically harvest honey in the fall and there are oportunities to watch the harvest and perhaps even be involved when the bee experts are around.
Find out when honey is available!
---
---

Support Manheim Gardens


As a 100% volunteer run 501(c)(3) nonprofit organization, dedication and heart are at the core of everything we do. We offer growing space and free produce for neighbors, host community events and educational activities, and practice regenerative gardening and farming. Donations are the main source of funds for our day-to-day operations.
---
Land Acknowledgement
Manheim Gardens stands on the homelands of Native American peoples. In recent years, these nations have included the Missouria, Oto, Kansa, Osage, Shawnee, and Delaware. We pay respects to all Indigenous peoples — past, present, and future — for their continuing presence in the homeland and throughout the Native American diaspora.
---